Meal Plan for 2/27-3/4
We had a fun food week!
On Friday, we hit up
Sweet Auburn Market
in Atlanta and it was fun. I got some arepas from Arepa Mia and Ben and the kids got food from Yum Diggity. I think arepas are Venezuelan and I may have to attempt to recreate them because it was delish.
On to the food for the week!
Saturday night-
We had some friends over with their three kids, and I wanted to keep dinner easy so I could go and do fun stuff out on Saturday : ) Like attend a Marco Rubio rally, that ended up being crazy so I just dropped Luke and Ben off and took Eve to Starbucks...so really I chauffeured their political rally outing...oh well.
Served this with:
My throw together roasted carrots:
Roasted Carrots with Cumin
Ingredients:
2 lbs carrots
3 tbsp extra virgin olive oil
2 tbsp white wine vinegar
1-2 tsp cumin
salt/pepper
chopped up mint- about 2 tbsp
Directions:
Preheat oven to 400 degrees.
Peel and cut carrots how you like to eat them. Combine oil, vinegar and cumin (I ended up dumping more cumin than I should but they were still yummy)...pour over carrots and toss. Place on baking sheet and roast for 20-30 min. Check them halfway through and stir. Sprinkle with mint and serve.
Sunday night-
Leftovers! I reeeeally try to not cook on Sundays...Either leftovers or I throw together a salad that I usually dub "Salad Sundays" so I can just throw whatever in the salad that I need to use up.
On these salads, one has medium boiled eggs, bacon, goat cheese, cucumbers, - another salad has roasted butternut squash, prosciutto, avocado....really just a hodge podge but it works!
Monday night-
I have some salmon in the freezer and I am low on budget money for February so I am just using what I have in the freezer and pantry for the most part. I will use honey instead of the brown sugar sometimes-Either way, so good.
Serving with sauteed brussel sprouts-
This is what I do:
Sauteed Brussel Sprouts
Ingredients:
1 lb brussel sprouts (I buy the bag from Trader Joes)
1 tbsp coconut oil
salt
Directions:
So easy : ) Slice brussel sprouts thin (I refer to this as "feathering" them). Heat coconut oil in a medium skillet over medium heat. Add brussel sprouts and stir often until the sprouts start to caramelize, sprinkle with salt (and pepper if you want) and that's it.
Will probably serve with brown rice as well...
Tuesday night-
Taco Tuesday! Woot Woot-
We have tried ALL kinds the past few weeks- check back on prior blog posts- shrimp tacos, salmon fish tacos, carnitas tacos, etc...Going back to our "norm" this week.
Hartmans beef tacos : )
1 lb ground beef
cumin, chili powder, salt
1 onion- sliced thin (half-moon shaped)
1 red, yellow or orange bell pepper (seeded and sliced thin)
black olives, sliced
salsa
tomatoes
corn tortillas
avocados (2), cilantro, lime juice, himalayan pink salt (this is for guac obvi ; ) )
or basically whatever we want to add on!
Directions:
Filling: Heat skillet to medium heat. Add ground beef and brown the meat, breaking up the meat as you go along. Drain any excess fat. Add about 2 tbsp chili powder, 1 tbsp cumin and salt to taste. Mix well. Then add about 1/4 cup water and simmer about 5-10 min until the liquid is reduced and the flavors meld into a "sauce".
Sauteed onions/peppers- In another skillet at the same time- heat skillet over medium heat with 1 tbsp olive oil. Add onions and peppers and saute until nice and browned. This will take about 15-20 minutes. Stir occasionally.
Hartmans Simple Guac- Take the avocados, chop up about 3 tbsp cilantro, squeeze juice from 1 lime and salt and pepper to taste- combine.
Heat corn tortillas in small skillet over medium heat one at a time about 2 minutes on each side.
ASSEMBLE and EAT.
No picture for this- I forget to take a picture when we eat these, but here is Eve grocery shopping with me this week.
Wednesday night-
Another budget meal alert!!! Simple, cheap, but good. This is a gluten free recipe but you can just use 1 cup regular flour if you don't want them to be gluten free. Will serve with bacon, because bacon completes a meal. Amen.
Thursday night-
Last budget meal- I haven't tried this one yet, but it looks genius! Hash browns in a waffle maker. Whaaaaat? Yes! Will serve with applesauce or some other fruit likely.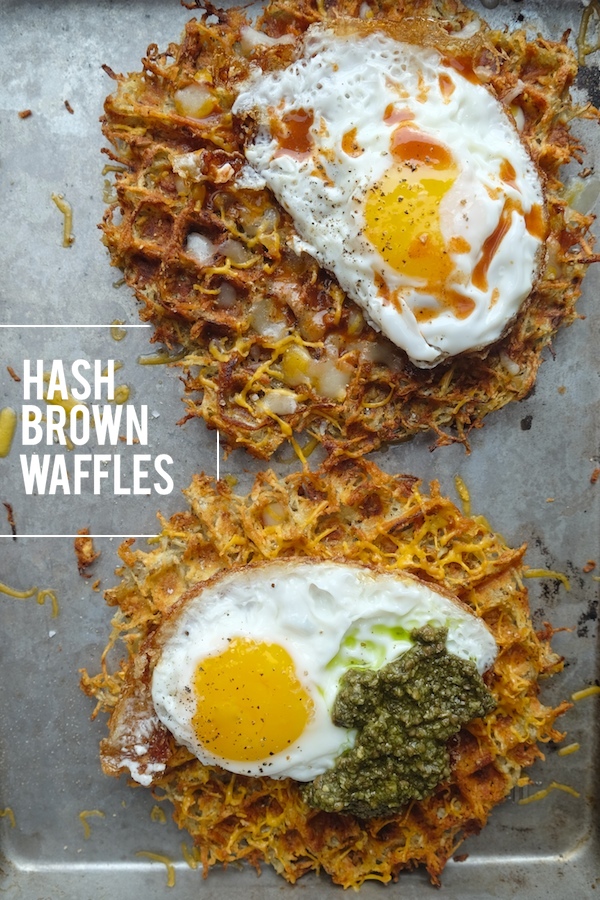 Looks like you can pretty much make these your own! Add whatever you want on top : )
**I ALMOST FORGOT** I made some
Paleo Chocolate Chip Cookies
for our dinner guests last night and it was a winner. Scroll down to the bottom of the article via the link for the recipe.
Have a great week!