Weekly Meal Plan 3/19-3/25
Saturday night=date night
After Ben was gone during the week for work, a date night at the
Common Quarter
was much needed just to say "Oh hi, remember me?!" : ) He was gone two weeks in a row (back during the in-between weekend) but hopefully around for the next week or so? We honestly never know- so, date night was great! I actually wrote a little post about our recent eats in the Atlanta area
HERE!
so if you are interested, click that link.
Sunday night
-
Truth be told- I didn't get around to making the salmon I posted about from last week, so trying it tonight with the sous vide cooker.
Here is the recipe again
Sous Vide Salmon
- even if you don't use a sous vide, you can still use the marinade and bake it in the oven at 375 degrees until your desired doneness...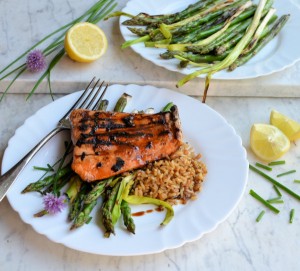 Will serve with brown rice and sauteed brussel sprouts.
Monday night-
I bought this pasta at Trader Joes and will use it for the rotini- So, mine will look quite different I think!
Okay 3/21 update- we did NOT like this dish much at all. It was probably the black bean pasta : ) But I never ever let my kids eat anything but the dish I make for dinner and I totally gave them a pass tonight and let them eat a bowl of cereal!!! They did have a small amount of the dish ...black bean pasta and peanut butter DO NOT mix- at least for us anyways.
Wednesday night-
Trying a new recipe! I will use my own homemade taco seasoning and probably won't put cheese on top- maybe for the kids I will...This blog I follow is a neat family- if you have ever watched The Bachelor/The Bachelorette, remember Sean Lowe? He married Catherine (and they are pregnant)- well, this blog is authored by Sean's sister...not that I follow those sorts of things...ahem.
Thursday night-
This summer, Ben and I are leading a missions trip to Leon, Nicaragua to drill a well for clean water for the community. Along with clean water, we will provide health and hygiene lessons...why does this matter for my meal planning? Well, we are having a BBQ for Missions night at THE Dave Poe's BBQ in Marietta. Dave will contribute a portion of the proceeds from his sales for the night. Marietta people, go eat there tonight!!! From 5:00-8:00 p.m.
He has fabulous beef brisket, pulled pork, mac-n-cheese, collard greens, fried okra...it could go on and on. I am getting hungry thinking about it. The end.
Friday night-
Going with a tried and true
Vietnamese Noodle Bowl
-using rice noodles from Costco- I love them, they cook in 3-4 minutes...dinner is super quick with this recipe. Happy Good Friday! We are going to our Good Friday service at our church that night.
P.S. Sunday for me is a day of rest and I reeeeally try to make this happen. Of course, rest to one person, is not restful to another. For me, I usually try some new snack recipe/item and eat it while I am resting ; ) Just did this one---y'all, you have to make it!
I made them with cashews and almonds instead of the pecans (because I didn't have them) and I mean...no words. Make them. You don't have to bake them.
P.S. I am loving this time of year-the weather, the flowers, the blooming trees and last night on our date night, we had this treat of an amazing sunset...It is the small things, right?